The latest news we have received is that 6,700,000 face-masks will be distributed in these districts starting tomorrow(Friday) as announced by Minister of Health Dr. Ruth Aceng.
The Minister of Health Dr Jane Ruth Aceng has announced that mass distribution of face masks in Kampala metropolitan area will be commence tomorrow Friday.
As per the presidential directive, all Ugandans above the age of 6 are compulsorily supposed to wear face masks while in public as one of the measures to curb the spread of COVID-19 pandemic.
Also Read: New Info: COVID-19 body not eaten by dogs, says Namisindwa RDC
To realize this directive, the Government embarked on a process of distributing masks to all Ugandans beginning with districts are the border.
While giving a COVID-19 update to the nation today Thursday, the Health Minister Dr Jane Ruth Aceng announced that distribution process begins in Kampala tomorrow.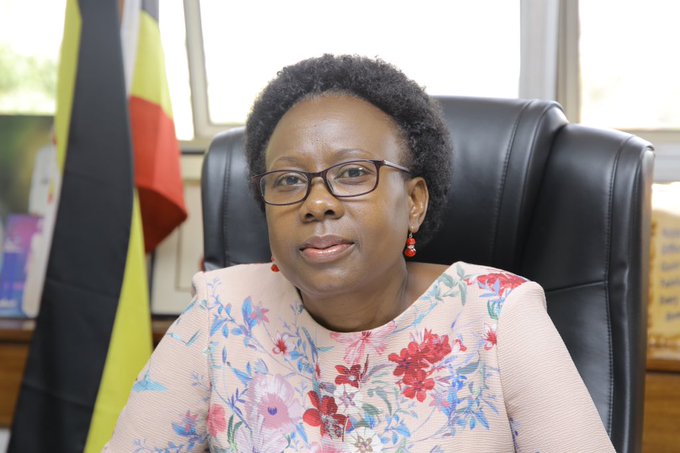 "Face masks will be distributed in Kampala metropolitan area, Mukono and Wakiso districts and this will commence tomorrow Friday 31st July 2020," said Aceng.
A total of 6,700,000 face masks, she said will be distributed to cater for the population living in Kampala metropolitan area.
So far, 4,908,507 face masks she said have been delivered to the Ministry of Health and are ready for distribution to Kampala, Wakiso and Mukono.
Concerning border districts where the exercise began, Aceng revealed that over 8 million masks have been distributed.
"To date, the Ministry of Health has distributed 8,229,803 face masks to 27 districts across the country," she said.
The exercise which began with border districts will now be followed by cities and municipalities, districts along the cargo transit routes and the rest will follow.
The districts that have so far received face masks include Amuru, Kyotera, Buikwe, Arua, Adjumani, Isingiro, Rakai, Busia, Moyo, Tororo, Gulu, Hoima, Ntungamo Kakumiro, Masaka, Kumi, Moroto, Lira, Mbarara, Yumbe, Soroti, Kamuli, Kasanda, Omoro, Jinja, Kiruhura and Kabale.
The exercise which was expected to be completed within 2 weeks of the commencement, it was never realized and Aceng said the production capacity and delivery from suppliers is limited.
"This has affected the expected completion of the distribution process. The suppliers have since enhanced their capacity and we do hope that the process will now move on schedule," she said.