If you have been an cative user of social media platform Twitter then during on time or another you might have come across a hashtag stopsocialmediabullying.
It was a hashtag started by Sheila Gashumba who is a daughter to Frank Gashumba. Sheila claims that Tina Fierce through her former TV Show scoop on scoop bullied her!!
There has been an ongoing fight between these two ladies on Twitter and it seems finally Sheila Gashumba has won according to her tweet below.
The comments under this tweet summarize the anger Ugandans on Twitter(UOT) have on Sheila for purportedly making Tina lose her job.
If you read through that tweet, you see comments like "stupid", one user was so pissed that they even said they would fight Sheila's future TV programs
Just know there is so much backclash on Tina losing her job.
Many people have accused Sheila Gashumba of double standards and others have called her straight up a hypocrite!!
They always say the internet does not forget and indeed it does not!
People have brought up an old screenshot of how Sheila Gashumba bullied a one Robin Kristi, you need to see this screenshot to see how bad this was.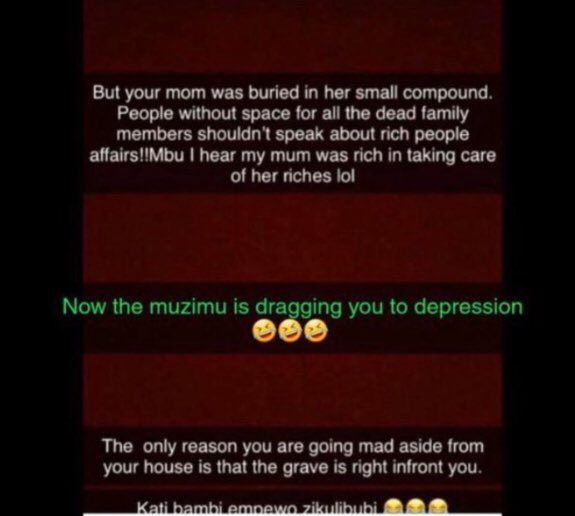 Most people have failed to know why this screenshot above is not social media bullying!
We have been reading tweets of people repeatedly sharing that screenshot above on almost all of Sheila's tweets accusing her of hypocricy.
People wanted her to first apologize to Robin Kristi before she can talk about stopping socialmedia bullying.
We also wrote a story here when Sheila Gashumba publicly said that Robin Kristi has mental health problems and needs to be helped,check out that post.
Backclash on Twitter Influencers
It is also alleged that Sheila Gashumba paid some few influencers 1M UGX each to help her push the #stopsocialmediabulyinginuganda campaign.
Most people on Ugandans Twitter were not happy about this and have been blaming the influencers for taking the money!!
From the tweets we have read and seen, we got some of names these influencers and they are Ka Malaika. Eddie Pages, Esther Birungi and others .
You can check out the screenshots below mentioning these people above



It seems many Ugandans on Twitter are outraged by what these influencers did .
If you want to see more on this just visit any of the Twitter profiles of Ka Malaika, Eddie Pages, Esther Birungi and others!
We shall update you later on the full list of influencers and this whole story as it unfolds.